Want to learn fingerpicking in the next 30 days?

From Zero to Guitar Fingerpicker Course
(ideal for complete beginners)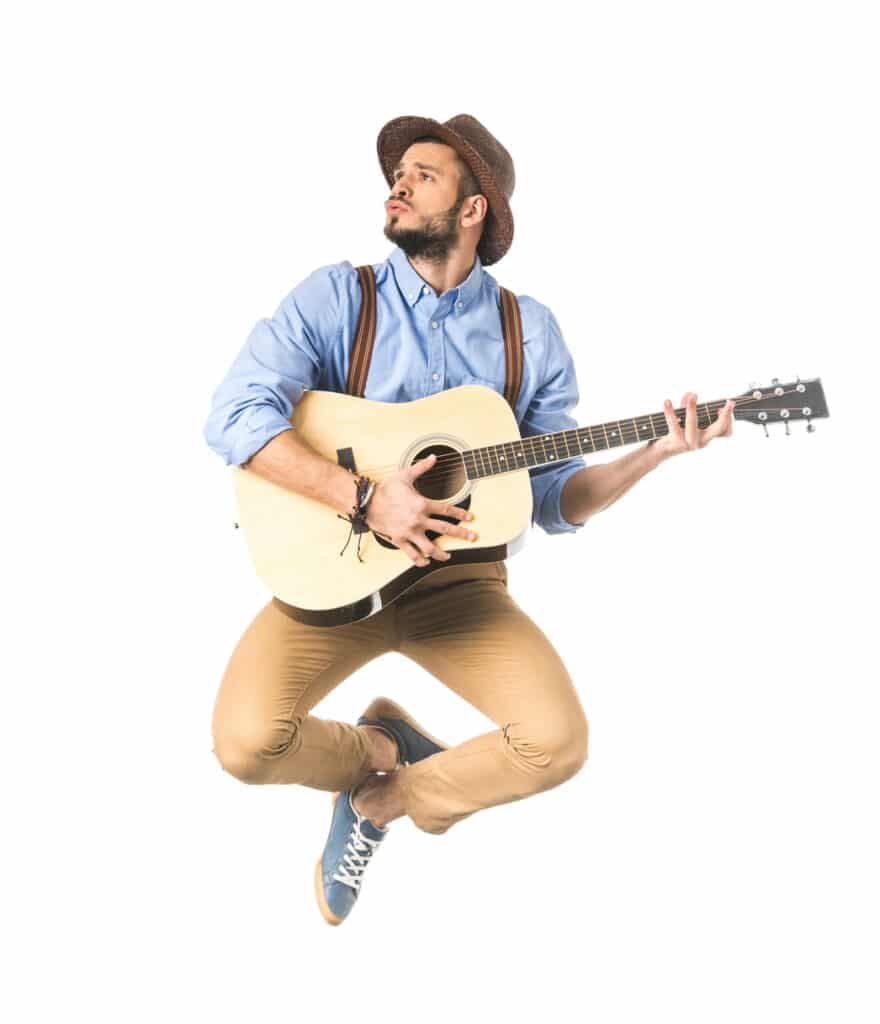 A student called Tony came to me a couple of years ago because he was about to retire and he asked me a question that I'll never forget. "I've always dreamed of playing guitar and even tried once or twice - but do you think it's too late for me to learn?"
It was easy for me to answer that question because I could tell that the idea of playing the guitar was something Tony was passionate about. He just needed some help to get started in the right way and his passion and curiosity would soon take hold.
Maybe you've tried to pick up the guitar before but failed? Or maybe you're just interesting in trying something new - but you're not very musical? Maybe you have small or fat hands or fingers? None of these should block your progress!
One thing is true - if learning the guitar was really interesting then you'd pick up that guitar every day. The key success factor in this course? It is that students get a reward from the very first hour of practice they put in - and they sound good!
I have since taught over 60k students with my online courses. That's sixty thousand people playing fingerpicking guitar - the vast majority of which couldn't even play a chord when they started. It's time for you to join the growing community of fingerpickers!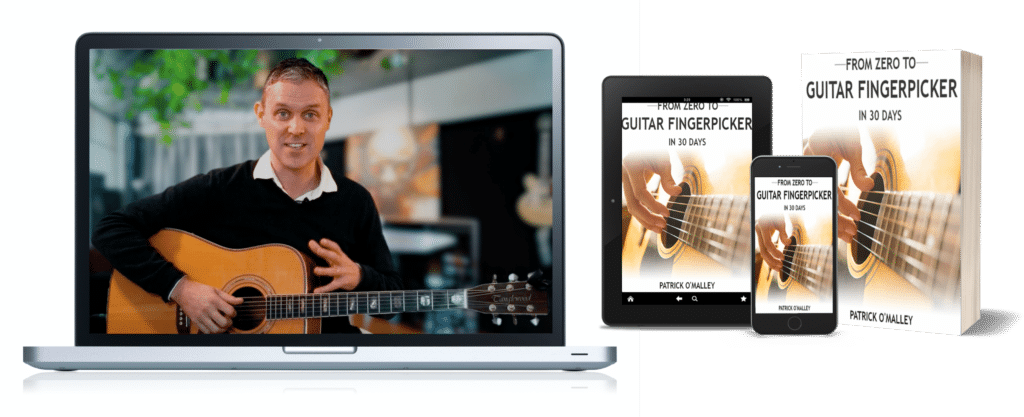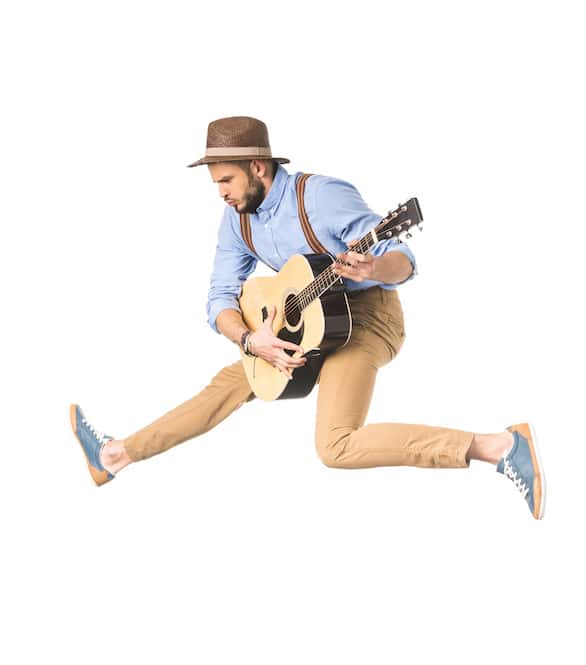 What does life look like with this course?
Once you begin:
You'll start off with the very basics such as learning the string names, a few chords and how to read guitar notation.
Then I get that guitar into your hands as quickly as possible to play some simple exercises slowly.
You'll focus on playing notes cleanly and slowly using the appropriate fingers and we'll add elements each day to build up your knowledge.
You will be able to improve by tackling one exercise per day and you can limit your practice sessions to just 15 minutes a day. 
Due to the structure of the course, you will feel a huge improvement in your guitar playing that is almost effortlessly acquired. Each lesson will give you a new stepping stone, and the sum total of all the lessons is that your playing will take a huge leap.
You will not encounter any 'jumps' in the material that suddenly mean that you are lost or unable to continue the course because I supply tips at the start of each lesson for those who found the last exercise challenging.
Once you finish:
Your musicianship and fingerpicking will have jumped a huge level and people watching you play guitar will be genuinely impressed.
You will be able to:
Play a number of fingerstyle patterns over the most common chords
Mix playing a melody and playing basslines all into one guitar part that gives you the two-guitarists-playing effect.
Learn songs (Paul Simon, Jeff Buckley)
Create the foundation for a lifelong habit of playing guitar
Ready to start fingerpicking?
Designed to make you play musically within the first few days
The course has five sections
Getting Started – some basic information, identifying string names, a few chords, reading tablature, using a metronome

Fingerpicking Basics – the background to how fingerpicking works, the big rule, several fingerpicking patterns

The Thumb – the key to getting that 'two guitar effect' is for the thumb to do the work of the bass player; alternating bass, walking bass, more fingerpicking patterns

The Fingers – adding more advanced patterns to the right hand fingers, pinching, different sequence length and writing your own fingerpicking patterns

Advanced – clear breakdowns of advanced techniques like Travis Picking and Clawhammer
Note that each section has 5-7 individual lessons with a homework exercise after each lesson. At the beginning of the following lesson, I will give tips for anyone stuck with practical ways to get it mastered if you're finding it difficult.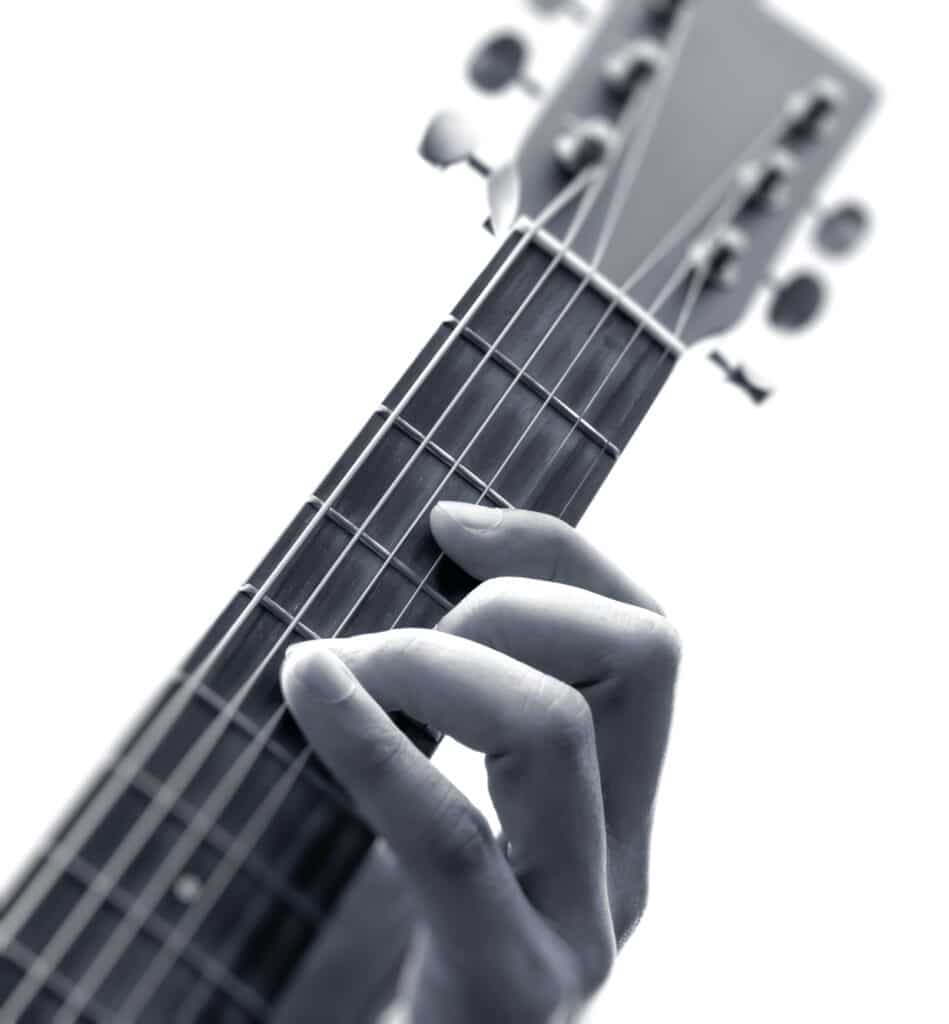 You will enjoy playing guitar because each step in this learning path will provide you with the right level of learning and challenge without being too hard (whatever your musical ability or age)
You will have a daily approach to guitar, following the exercises I have laid out for you that you can make progress with in just 15 minutes per day
You will stick with the whole program because it is designed to give you daily micro-improvements and helpful tips for when you find something a challenge
You will be able to progress at your own pace, moving on when you master a section – in your own time and safe in the knowledge that you massively improve your playing.
You will realize the health benefits of learning music.
By the end of this course, you will be able to:
identify the guitar strings
play 6 of the most common guitar chords
learn how to read guitar tablature (notation)
use the appropriate fingers for each string
learn some basic fingerpicking patters
develop a completely independent left and right hand
play in a travis picking style
play in a clawhammer style
play several advanced fingerpicking pieces
Fantastic. When I started I had no idea how to fingerpick or even play basic chords and now I feel fairly confident doing both. Absolutely recommended if fingerpicking is something you care to learn
Really enjoying the course. Simple techniques and short practice sessions paying off.
Love it. Just the right speed for me. Very well explained and a fun progression
Optimized for your success
This structure of this program is designed to help you get results immediately:
A structured framework of 34 small parts.
That fit into a 15 minutes a day practice schedule.
Where each session gives you an exercise to practice at the end
And the following session will give you tips if you found that exercise challenging.
By the end of the course, you will have made huge progress (through 22 small steps that add up)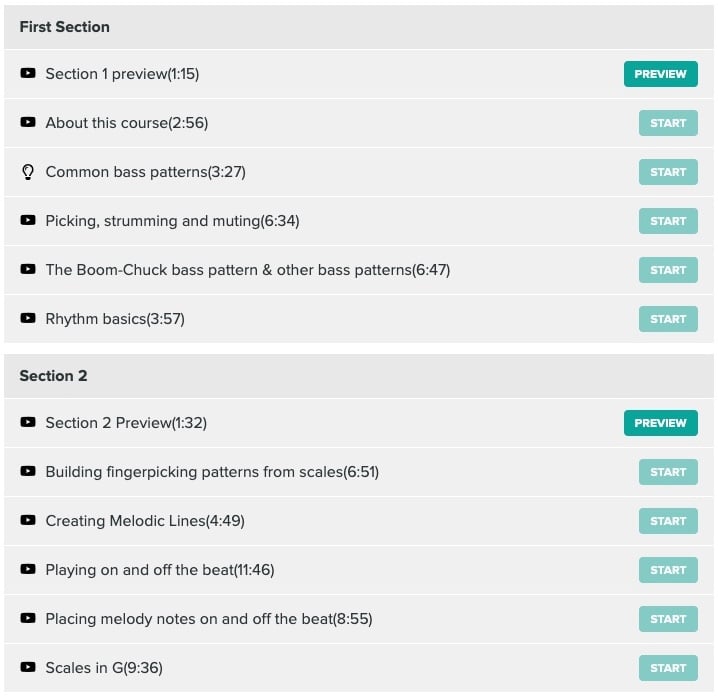 Frequently Asked Questions
Ready to become a fingerstyle guitarist?
Now is the time to become the fingerpicking guitarist you have always dreamed of being